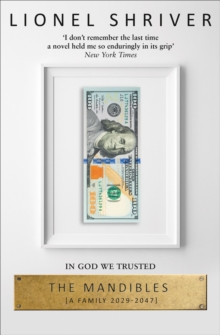 The Mandibles : a family, 2029-2047
000756077X / 9780007560776
Reprint. Originally published: 2016.
Then there was the emotionally charged issue of toilet paper.
In most major cities, stockpiling of family packs was rife, leading to chronic shortages and gouging... In this eerily prophetic novel from the Orange Prize-winning author of We Need to Talk About Kevin, a once-wealthy family faces the prospect of ruin.
This apocalypse is financial - the dollar is in meltdown, America's national debt far beyond repayment. It is 2029. The Mandibles have been counting on a sizable fortune filtering down when their 97-year-old patriarch dies, but now their inheritance is turned to ash.
Each family member must contend with disappointment, but also - as the effects of the downturn start to hit - the challenge of sheer survival. Recently affluent Avery is petulant that she can't buy olive oil, while her sister Florence is forced to absorb strays into her increasingly cramped household.
As their father Carter fumes at having to care for his demented stepmother now that a nursing home is too expensive, his sister Nollie, an expat author, returns from abroad at 73 to a country that's unrecognizable. Perhaps only Florence's oddball teenage son Willing, an economics autodidact, can save this formerly august American family from the streets... 'A scary, convincing horror story, akin to reading about teetering on the edge of a precipice while actually teetering on the edge of a precipice' Spectator 'A gleeful nightmare, it made me snort with laughter even as I was shuddering' SARAH WATERS, Best Books of the Summer, Guardian 'All too chillingly plausible...profoundly frightening' Observer
BIC:
1KBB USA, FA Modern & contemporary fiction (post c 1945), FV Historical fiction