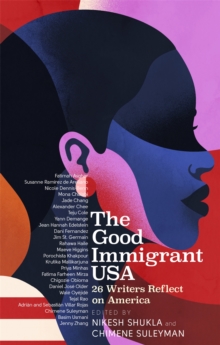 The good immigrant USA : 26 writers on America, immigration and home
0349700389 / 9780349700380
20 cm xii, 323 pages : illustrations (black and white)
Reprint. Originally published: New York: Little, Brown and Company, 2019.
GUARDIAN MUST READ BOOKS OF 2019 'The you-gotta-read-this anthology' Stylist'This collection showcases the joy, empathy and fierceness needed to adopt the country as one's own' Publishers Weekly An urgent collection of essays exploring what it's like to be othered in an increasingly divided America.
From Trump's proposed border wall and travel ban to the marching of White Supremacists in Charlottesville, America is consumed by tensions over immigration and the question of which bodies are welcome.
In this much-anticipated follow-up to the bestselling UK edition, hailed by Zadie Smith as 'lively and vital', editors Nikesh Shukla and Chimene Suleyman hand the microphone to an incredible range of writers whose humanity and right to be in the US is under attack. By turns heartbreaking and hilarious, troubling and uplifting, the essays in The Good Immigrant USA come together to create a provocative, conversation-sparking, multi-vocal portrait of America now. Essays from:Porochista Khakpour; Nicole Dennis-Benn; Rahawa Haile; Teju Cole; Priya Minhas; Wale Oyejide; Fatimah Asghar; Tejal Rao; Maeve Higgins; Krutika Mallikarjuna; Jim St.
Germain; Jenny Zhang; Chigozie Obioma; Alexander Chee; Yann Demange; Jean Hannah Edelstein; Chimene Suleyman; Basim Usmani; Daniel Jose Older; Adrian Villar Rojas; Sebastian Villar Rojas; Dani Fernandez; Fatima Farheen Mirza; Susanne Ramirez de Arellano; Mona Chalabi; Jade Chang
BIC:
1KBB USA, DNF Literary essays, JFFN Migration, immigration & emigration, JFSL1 Ethnic minorities & multicultural studies