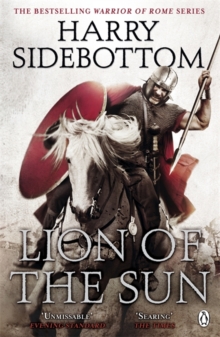 Lion of the sun
0141032316 / 9780141032313
Reprint. Originally published: London: Michael Joseph, 2010.
Discover explosive action and white-knuckle drama in the spectacular second instalment in Harry Sidebottom's vivid five-part series, perfect for fans of Bernard Cornwell Mesopotamia, AD 260 Betrayed by his most trusted adviser, the Roman Emperor Valerian has been captured by the Sassanid barbarians.
The shame of the vanquished beats down mercilessly like the white sun, as the frail old emperor prostrates himself before Shapur, King of Kings. Ballista vows to avenge those who have brought the empire to the brink of destruction with their treachery. One day, maybe not soon, but one day, I will kill you . . . But first he must decide what price he will pay for his own freedom.
Only the fearless and only those whom the gods will spare from hell can now save the empire from a catastrophic ending. Ballista, the Warrior of Rome, faces his greatest challenge yet . . . Praise for Harry Sidebottom 'Sidebottom's prose blazes with searing scholarship' Times 'The best sort of red-blooded historical fiction' Andrew Taylor, author of The American Boy
BIC: