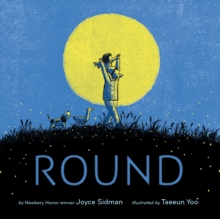 Round
0544387619 / 9780544387614
Usually dispatched within 2 weeks
23 cm 32 pages : chiefly illustrations (colour)
If you look closely, you will find that the world is bursting, swelling, budding, and ripening with round things awaiting discovery-like eggs about to hatch, sunflowers stretching toward the sun, or planets slowly spinning together for billions of years. Whimsical and imaginative, this poetic ode to all that is round and full of wonder by the Newbery Honor winning author and poet Joyce Sidman, with illustrations by the two-time New York Best Illustrated Book award recipient Taeeun Yoo, inspires curiosity and wonder for this (round) little earth we call home. AGES: 4-7 AUTHOR: The Newbery Honor winner Joyce Sidman is today's foremost nature poet for children.
Accolades for her books include two Caldecott Honors, a Lee Bennet Hopkins Award, winner of the Claudia Lews Award, and many stars and best of lists.
For her award-winning body of work, she won the Award for Excellence in Poetry for Children.
She lives in Wayzata, Minnesota. Visit www.joycesidman.com ILLUSTRATOR: Taeeun Yoo received her MFA from the School of Visual Arts Illustration as Visual Essay program.
Her first picture book, The Little Red Fish, (Dial Books, 2007), was awarded the Society of Illustrators' 2007 Founders Award.
She has received The New York Times Best Illustrated Book award twice with 'Only a Witch Can Fly' by Alison McGhee(Feiwel and Friends, 2009) and 'Here Is the Baby' by Polly Kanevsky(Schwartz and Wade, 2014).
She has also illustrated the reissue of Madeleine L'Engle's renowned series, 'The Time Quintet' and 'The Austin Chronicles' (Square Fish / Macmillan, 2007, 2008).
A U.S. citizen, Ms. Yoo currently lives abroad in Korea. Visit her at http://www.taeeunyoo.com/.
BIC: