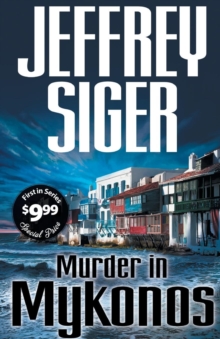 1590586913 / 9781590586914
Usually dispatched within 2 weeks
Praise for Murder in Mykonos... "Siger...captures the rare beauty of the Greek islands in this series debut." -Library Journal"Siger's view of Mykonos...is nicely nuanced, as is the mystery's ambiguous resolution...solid foundations for a projected series." -Publishers Weekly"Siger's intimate knowledge of Mykonos adds color and interest to [an] effective debut novel." -Kirkus ReviewsPolitically incorrect detective Andreas Kaldis, promoted out of Athens to serve as police chief for Mykonos, is certain his homicide days are over.
Murders don't happen in tourist heaven. At least that's what he's thinking as he stares at the remains of a young woman, ritually bound and buried on a pile of human bones inside a remote mountain church. Teamed with the nearly-retired local homicide chief, Andreas tries to find the killer before the media can destroy the island's fabled reputation with a barrage of world-wide attention on a mystery that's haunted Mykonos undetected for decades. Then another young woman disappears and political niceties no longer matter.
With the investigation now a rescue operation, Andreas races against a killer intent on claiming a new victim.... Born and raised in Pittsburgh, Pennsylvania, Jeffrey Siger practiced law in New York City until giving it all up to write full-time among the people, life, and politics of Mykonos, his adopted home of twenty-five years.
His other home is a farm outside New York City. www.jeffreysiger.com
BIC: