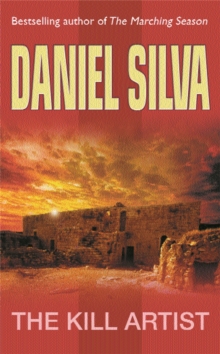 The kill artist
0752847856 / 9780752847856
Reprint. Originally published: London: Weidenfeld & Nicolson, 2001.
A gripping thriller with a story as up-to-date as today's headlines Daniel Silva's previous novels have been bestsellers on both sides of the Atlantic Critical acclaim for Daniel Silva's fiction: 'Filled with the kind of dark passages that keep fans of spy thrillers guessing as they eagerly turn the pages ... briskly suspenseful, tightly constructed and full of well-rounded, believable characters' NEW YORK TIMES 'Silva can truly write. He creates tension with a real master's touch ... from page one we are hooked into the action' IRISH TIMES 'Silva brings to life a tale of suspense that spirals
The chief of Israeli Intelligence recalls two former agents in order to eliminate a top Palestinian terrorist.
One agent is now an art restorer, the other a fashion model. Ten years before, on a mission to destroy the Arab Black September group, they were briefly lovers. Now their pasts and their enemies come back to haunt them, as the terrorist murders ambassadors in Paris and Holland.
Will the Israeli-Palestinian peace talks be his next target? And what motivates the terrorist? Is it politics, or is it possibly personal? Set mainly in London, but with forays into Paris, Amsterdam, the Middle East and north America, this thriller has all Daniel Silva's hallmarks of strong characters, unusual backgrounds and a page-turning narrative.
BIC: