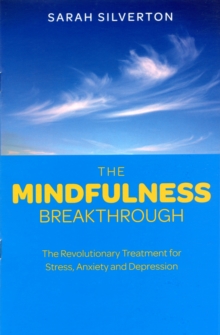 The mindfulness breakthrough : the revolutionary approach to dealing with stress, anxiety and depression
1780281072 / 9781780281070
Stock expected by 18/06/2021
24 cm 184 p. : ill. (chiefly col.)
This book explains how to practise mindfulness, using illustrated step-by-step exercises to help the reader understand key techniques such as breathing, relaxation, body scanning and concentration building.
It also includes chapters on using mindfulness to self-treat such specific problems as depression, stress and anxiety, and relationship issues.
Written by a team of practising therapists led by Sarah Silverton, The Mindfulness Breakthroughexplains how to open our awareness so that we can relate to our experiences with a compassionate, non-judgmental attitude.
As we progress through each chapter, we learn how to become aware of unhelpful automatic reactions to our emotions, feelings and experiences.
Rather than 'reacting' to life as we always have, mindfulness shows us how to observe our experience and as a result behave in a way that is gentler, wiser and more positive.
Practical, accessible and featuring illustrated exercises to help the reader fully understand and adopt the mindfulness approach, this book truly is a breakthrough: the most friendly and engaging title available on the subject.
BIC: