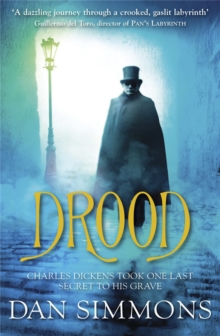 Drood : a novel
1847249329 / 9781847249326
Stock expected by 16/04/2021
'I am in awe of Dan Simmons' Stephen KingThis story shall be about my friend (as at least about the man who was once my friend) Charles Dickens and about the accident that took away his peace of mind, his health, and, some might whisper, his sanity... In 1865 Charles Dickens, the world's most famous writer, narrowly escapes death in the Staplehurst Rail Disaster.
He will never be the same again. A public hero for rescuing survivors, he slowly descends into madness as he hunts the individual he believes to be responsible for the carnage: a spectral figure known only as Drood. His best friend, Wilkie Collins, is enlisted for the pursuit.
Together they venture into Undertown, the shadowy, lawless web of crypts and catacombs beneath London.
Here Drood is rumoured to hold sway over a legion of brainwashed followers.
But as Wilkie spirals ever further into opium addiction and jealousy of the more successful novelist, he must face a terrifying possibility: is Charles Dickens really capable of murder?Readers are loving Drood'Beautifully written, fiction heaven!' *****'One of my favourite reads ever' *****'A masterpiece' *****'Epic adventure' *****'Surprising - I enjoyed every page' *****
BIC: