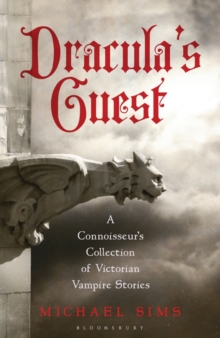 Dracula's guest : a connoisseur's collection of Victorian vampire stories
1408809966 / 9781408809969
Stock expected by 30/04/2021
Reprint. Originally published: 2010.
Even in the twenty-first century, the undead walk among us... Before Twilight and True Blood, vampires haunted the nineteenth century, when brilliant writers indulged their bloodthirsty imaginations, culminating in Bram Stoker's legendary 1897 novel, Dracula. Acclaimed author and anthologist Michael Sims brings together the finest vampire stories of the Victorian era in a unique collection that highlights their cultural variety.
Beginning with the supposedly true accounts that captivated Byron and Shelley, the stories range from Aleksei Tolstoy's tale of a vampire family to Fitz James O'Brien's invisible monster to Mary Elizabeth Braddon's rich and sinister widow, Good Lady Ducayne.
Sims also includes a nineteenth-century travel tour of Transylvanian superstitions, and finishes the collection with Stoker's own Dracula's Guest - a chapter omitted from his landmark novel. Vampires captivated Victorian society, and these wonderful stories demonstrate how Romantic and Victorian writers refined the raw ore of peasant superstition into a whole vampire mythology of aristocratic decadence and innocence betrayed.
BIC:
DQ Anthologies (non-poetry), FKC Classic horror & ghost stories