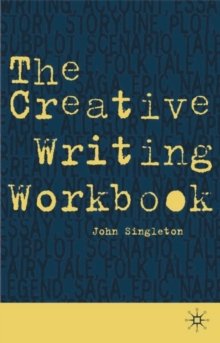 The creative writing workbook
0333792165 / 9780333792162
further/higher education Learn More
general
undergraduate
John Singleton was the main editor of "The Creative Writing Handbook" and has taught creative writing for many years.
This is a companion to "The Creative Writing Handbook" now in its second edition.
It is very much aimed at the individual writer, based on the idea that real writing comes from within and that writing is a craft, skill with determination, art with attitude.
The book is filled with useful ideas and inspiring techniques for exploring and exploiting resources available, both within and without.
It focuses on three major areas the writer's roots (family, class and gender), the writer's resources (memory and language) and the writer's art (form and technique).
Chapters focus on many topics, including how memory shapes a writer's material, the pro-creative force of words and the ambiguities of art and artfulness.
Many examples of established writers' works are cited to give the fledgling writer practical help.
BIC: