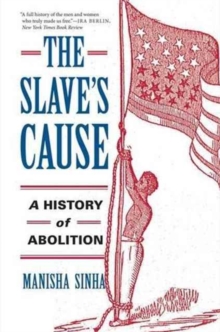 The slave's cause : a history of abolition
0300227116 / 9780300227116
Reprint. Originally published: 2016.
Winner of the 2017 Frederick Douglass Prize A groundbreaking history of abolition that recovers the largely forgotten role of African Americans in the long march toward emancipation from the American Revolution through the Civil War Received historical wisdom casts abolitionists as bourgeois, mostly white reformers burdened by racial paternalism and economic conservatism.
Manisha Sinha overturns this image, broadening her scope beyond the antebellum period usually associated with abolitionism and recasting it as a radical social movement in which men and women, black and white, free and enslaved found common ground in causes ranging from feminism and utopian socialism to anti-imperialism and efforts to defend the rights of labor.
Drawing on extensive archival research, including newly discovered letters and pamphlets, Sinha documents the influence of the Haitian Revolution and the centrality of slave resistance in shaping the ideology and tactics of abolition.
This book is a comprehensive new history of the abolition movement in a transnational context.
It illustrates how the abolitionist vision ultimately linked the slave's cause to the struggle to redefine American democracy and human rights across the globe. Honors include:Longlist title for the 2016 National Book Awards Nonfiction categoryWinner of the 2017 Best Book Prize by the Society for Historians of the Early American RepublicWinner of the 2016 Avery O.
Craven Award given by the Organization of American HistoriansHonorable Mention in the U.S.
History category for the 2017 American Publishers Awards for Professional & Scholarly Excellence (PROSE)Winner of the 2017 Frederick Douglass Book Prize, jointly sponsored by the Gilder Lehrman Institute of American History and the Gilder Lehrman Center for the Study of Slavery, Resistance, and Abolition at the MacMillan Center at Yale University2017 James A.
Rawley Award for the Best Book on Secession and the Sectional Crisis published in the last two years, Southern Historical Association
BIC: