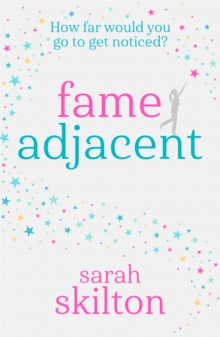 Fame adjacent
1409191923 / 9781409191926
'A fun, entertaining read with a sweet romance to boot.' HelloGigglesWhat if your best days happened when you were eleven?It's not easy being the only cast member of a 1990s song-and-dance show who didn't become a household name.
Holly Danner has made her peace with watching her childhood friends become world-famous from afar.
But when she finds out there's a 25th anniversary for the show and she wasn't invited, it's time to set the record straight.
There's just one problem, she's stuck in rehab - for her internet addiction - and the only person who can help her is a handsome and infuriating fellow patient who doesn't think she should confront her famous ex-friends. But it's finally Holly's time in the spotlight and nothing is going to stop her...
FAME ADJACENT is a hilarious and feel-good story of love, friendship, and fame, as seen through the eyes of a girl who lived it - from the sidelines.
Perfect for fans of Paige Toon and Giovanna Fletcher.
Praise for Sarah Skilton's Fame Adjacent:'Pure fun with a sweet romance and flawed characters who are trying to come to terms with the past and move on' Goodreads reviewer'Genuinely funny ' Goodreads reviewer'This book has many laugh out loud, feel-good moments.
With a very sweet love story.' Netgalley reviewer'lots of humour, lovely charismatic characters and a cute romance.
A nice summer read.' Netgalley reviewer
BIC: