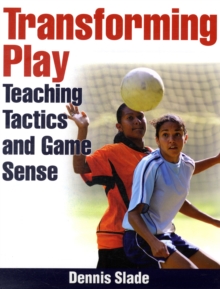 Transforming play : teaching tactics and game sense
0736075186 / 9780736075183
Stock expected by 11/04/2020
Primary & Secondary Education (US: Elementary & High School) Learn More
Professional & Vocational
The traditional, highly structured, teacher-directed approach of teaching tactics and skills separate from games is quite boring for kids--who, after all, just want to play the game.
Transforming Play: Teaching Tactics and Game Sense shows you how to use games to keep kids active and involved.
It also shows you how to teach kids the fundamental movement skills and knowledge of basic game strategy that will help them develop a lifelong love of activity.
You will learn how using a game sense approach to teaching games and sports can make activity meaningful for all kids, from the novice to the very skilled. Transforming Play: Teaching Tactics and Game Sense includes - an introduction that explains the principles of using games to develop key skills and tactics; - vividly illustrated games that you can use immediately to develop kids' gross motor skills and tactical understanding, which can be transferred to and used in many popular sports; - lesson plans that demonstrate how game sense can be used in teaching school sports; - questions and coaching points you can use at key moments in teaching tactics and strategy as the kids play the games; and - support material for authentic assessment that enhances rather than intrudes on the learning experience. Sports are for everyone, not just the athletically inclined.
With Transforming Play: Teaching Tactics and Game Sense, you have access to proven tools for teaching students the simple skills and strategies that will equip them to enjoy sports and physical activity now and throughout their lives.
BIC:
JNU Teaching of a specific subject, YNW Sports & outdoor recreation (Children's / Teenage)