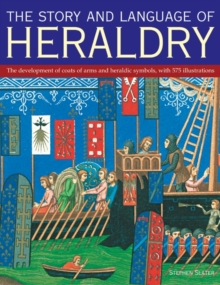 The story and language of heraldry : the development of coats of arms and heraldic symbols, with 575 illustrations
1780192169 / 9781780192161
Stock expected by 26/02/2020
29 cm 128 pages : illustrations (black and white, and colour)
This is an essential introduction to understanding and interpreting heraldry for novices, as well as a must-have source book and reference manual for experts.
Accessible and contemporary in style, the book brings new life to the subject, with a clear text revealing why heraldry remains a treasured part of our heritage.
It is richly illustrated throughout, with over 575 images especially commissioned from heraldic artists.
It is a fascinating guide to the medieval world in which heraldry thrived, the language it used and the elaborate system of coded messages it conveyed.
It discusses the modern uses of heraldry, such as in guilds and cities, hospitals and government, and armed forces and schools.
Born on the medieval battlefields and tournament arenas, heraldry was the most efficient way to identify knights hidden beneath helmets and breastplates.
This book unravels the meaning of its symbolism and metaphors, offering explanations of the often skillful designs and witty mottoes.
Heraldry has long excited the imagination and can still inspire admiration, jealousy or derision. This book captures the essence of an ancient sign system, explains clearly its special language, and presents an age-old subject in a refreshingly new light.
Its comprehensive glossary and accessible approach will enlighten many amateur genealogists and historians.
BIC: