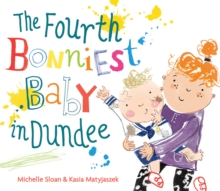 The fourth bonniest baby in Dundee
1782503145 / 9781782503149
23 x 27 cm 24 pages : chiefly illustrations (colour)
The contest for the Bonniest Baby in Dundee is here, and one very grubby baby brother is scrubbed, dressed, combed and taken by his mum and big sister to charm the judges. But on the way -- oh no! -- the bus breaks down... They'll have to get a wriggle on! It starts to rain and they splish and splash through puddles.
By the time they arrive, their bonnie baby is sticky, claggie and clarty.
His chances of winning are dashed -- especially when he blows a raspberry in the judge's face! Or are they...?Hilariously and lovingly recounted in lively, bouncing rhyme from the point of view of the baby's big sister, this cheeky picture book will have mums, dads and kids chortling every time.
With bright fun illustrations and recognisable scenes of Dundee, it is brimming with local flavour.
BIC: