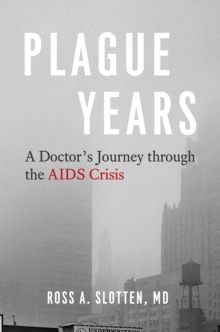 Plague Years : A Doctor's Journey Through the AIDS Crisis
022671876X / 9780226718767
Stock expected by 10/06/2020
In 1992, Dr. Ross A. Slotten had the dubious distinction of signing more death certificates in the city of Chicago--and, by inference, the state of Illinois--than any other physician.
As a family physician, he trained to care for patients from birth to death, but when he completed his residency in 1984, he had no idea that many of his future patients would be cut down in the prime of their lives.
Among those patients were close friends, colleagues, and former lovers, who were shunned by most of the medical community because of their sexual orientation and HIV-positive status.
Slotten wasn't an infectious disease specialist, but because of his unique position as a gay man and a young physician, he became an unlikely pioneer, swept up in the maelstrom of one of the greatest epidemics in modern human history. In Plague Years, Slotten offers a unique first-person account of the HIV/AIDS epidemic, drawing from private journals and notes from his thirty-plus years of practice.
Spanning not just the city of Chicago, but four continents as well, Plague Years provides a comprehensive portrait of the epidemic, from its mystery-riddled early years through the reckless governmental responses of the United States and other nations that led to legions of senseless deaths and ruined lives to the discoveries of life-saving drug cocktails that transformed the disease into something potentially manageable.
Unlike most other books on the subject, Slotten's story extends to the present day, when prevention of infection for those at risk and successful treatment of those already infected offer a ray of hope that HIV/AIDS can be stopped in its tracks. Alternating between Slotten's reactions to the crisis as a gay man and the demanding toll the disease took on his career and the world around him, Plague Years sheds light on some of the darkest hours in the history of the LGBT community in a way that no previous medical memoir has.
BIC:
BGT Biography: science, technology & medicine, JFSK Gay & Lesbian studies, MJCJ2 HIV / AIDS