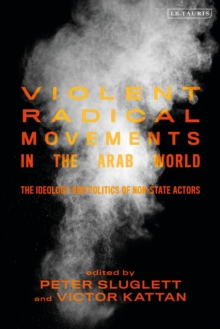 Violent radical movements in the Arab world : the ideology and politics of non-state actors
1788319761 / 9781788319768
Violent non-state actors have become almost endemic to political movements in the Middle East and the Horn of Africa.
This book examines why they play such a key role and the different ways in which they have developed.
Placing them in the context of the region, separate chapters cover the organizations that are currently active, including: The Muslim Brotherhood, The Islamic State in Iraq and Syria, Jabhat al-Nusra, Hamas, Hizbullah, the PKK, al-Shabab and the Huthis.
The book shows that while these groups are a new phenomenon, they also relate to other key factors including the 'unfinished business' of the colonial and postcolonial eras and tacit encouragement of the Wahhabi/Salafi/jihadi da'wa by some regional powers.
Their diversity means violent non-state actors elude simple classification, ranging from 'national' and 'transnational' to religious and political movements.
However, by examining their origins, their supporters and their motivations, this book helps explain their ubiquity in the region.
BIC:
1FB Middle East, 1HFG East Africa, HBJF1 Middle Eastern history, HBTR National liberation & independence, post-colonialism, JFSR2 Islamic studies, JPF Political ideologies, JPWQ Revolutionary groups & movements