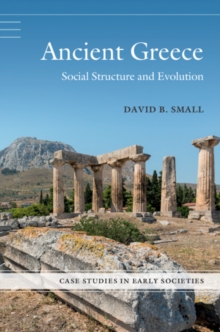 Ancient Greece : social structure and evolution
0521719267 / 9780521719261
300 pages : illustrations (black and white), maps (black and white).
Professional & Vocational Learn More
Tertiary Education (US: College)
This book examines the development of ancient Greek civilization through a path-breaking application of social scientific theories.
David B. Small charts the rise of the Minoan and Mycenaean civilizations and the unique characteristics of the later classical Greeks through the lens of ancient social structure and complexity theory, opening up new ideas and perspectives on these societies.
He argues that Minoan and Mycenaean institutions evolved from elaborate feasting, and that the genesis of Greek colonization was born from structural chaos in the eighth century.
Small isolates distinctions between Iron Age Crete and the rest of the Greek world, focusing on important differences in social structure.
His book differs from others on Ancient Greece, highlighting the perpetuation of classical Greek social structure into the middle years of the Roman Empire, and concluding with a comparison of the social structure of classical Greece to that of the classical Maya civilization.
BIC:
1QDAG Ancient Greece, ACC History of art: pre-history, ACG History of art: ancient & classical art,BCE to c 500 CE, AMV Landscape art & architecture, AMX History of architecture, HBLA Ancient history: to c 500 CE, HDDK Classical Greek & Roman archaeology