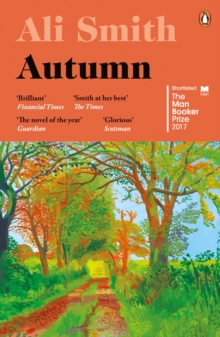 Autumn
0241973317 / 9780241973318
Reprint. Originally published: UK: Hamish Hamilton, 2016.
Discover Ali Smith's dazzling, once-in-a-generation series, the Seasonal Quartet, a tour-de-force quartet of novels about love, time, art, politics, and how we live right nowAll four instalments of the quartet are available to buy and read in paperback now: Autumn, Winter, Spring and Summer SHORTLISTED FOR THE MAN BOOKER PRIZE 2017Chosen by the Guardian as one of the Best Books of the 21st CenturySUNDAY TIMES TOP TEN BESTSELLER'Undoubtedly Smith at her best.
Puckish, yet elegant; angry, but comforting' The Times A breathtakingly inventive new novel from the Man Booker-shortlisted and Baileys Prize-winning author of How to be both Daniel is a century old.
Elisabeth, born in 1984, has her eye on the future. The United Kingdom is in pieces, divided by a historic once-in-a-generation summer. Love is won, love is lost. Hope is hand in hand with hopelessness. The seasons roll round, as ever . . . 'Terrific, extraordinary, playful... There is an awful lot to lift the soul' Daily Mail'Bold and brilliant' Observer
BIC: