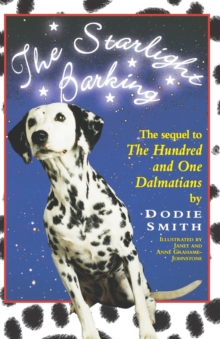 The Starlight Barking : More about the Undred and One Dalmatians
0312156642 / 9780312156640
Usually dispatched within 2 weeks
140 x 210 mm, 204 grams 160 pages, Illustrations
Dodie Smith's The Hundred and One Dalmatians, later adapted by Disney, was declared a classic when first published in England in 1956. Sadly, Dodie's delightful sequel, The Starlight Barking, has been out of print in the U.S. for nearly two decades.
As The Starlight Barking opens every living creature except dogs is gripped by an enchanted sleep. One of the original Dalmatian puppies, Cadpig, all grown up since the first novel, is now the Prime Minister's mascot. Relying on her spotted parents for guidance, she assumes emergency leadership for the canine population of England.
Awaiting advice from Sirius, the Dog Star, dogs of every breed crowd Trafalgar Square to watch the evening skies. The message they receive is a disturbing proposition, one that might forever destroy their happy status as "man's best friend".
BIC: