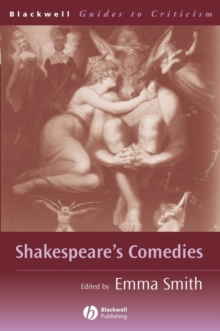 0631220127 / 9780631220121
Stock expected by 21/04/2021
postgraduate Learn More
research & professional
undergraduate
Criticism of Shakespeare's comedies has shifted from stressing their light-hearted and festive qualities to giving a stronger sense of their dark aspects and their social resonances.
This volume introduces the key critical debates under five headings: genre, history and politics, gender and sexuality, language, and performance.
The Guide serves students of Shakespeare in two ways.
Firstly, by presenting ten recent critical interventions in the field of Shakespeare studies, it provides an up-to-date compendium of current scholarship.
All the articles are contextualised with brief critical overviews and annotated suggestions for further reading.
An additional chapter on pre-twentieth-century criticism is mainly in narrative form but excerpts significant early views by Johnson, Hazlitt and Coleridge.
Thus, secondly, the volume acts as a guide to further reading to help students extend their knowledge of Shakespeare criticism.
BIC: