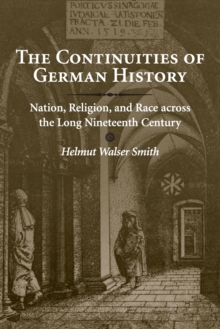 The continuities of German history : nation, religion, and race across the long nineteenth century
0521720257 / 9780521720250
Stock expected by 18/04/2020
Professional & Vocational Learn More
Tertiary Education (US: College)
This book opens the debate about German history in the long term - about how ideas and political forms are traceable across what historians have taken to be the sharp breaks of German history.
Smith argues that current historiography has become ever more focused on the twentieth century, and on twentieth-century explanations for the catastrophes at the center of German history.
Against conventional wisdom, he considers continuities - nation and nationalism, religion and religious exclusion, racism and violence - that are the center of the German historical experience and that have long histories.
Smith explores these deep continuities in novel ways, emphasizing their importance, while arguing that Germany was not on a special path to destruction.
The result is a series of innovative reflections on the crystallization of nationalist ideology, on patterns of anti-Semitism, and on how the nineteenth-century vocabulary of race structured the twentieth-century genocidal imagination.
BIC:
1DFG Germany, 3JH c 1800 to c 1900, HBAH Historiography, HBJD European history, HBLL Modern history to 20th century: c 1700 to c 1900