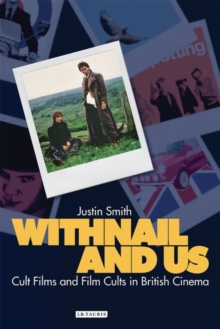 Withnail and us : cult films and film cults in British cinema
1848850921 / 9781848850927
Stock expected by 10/04/2020
24 cm xiv, 256 p. : ill., ports.
Cult has entered the cultural psyche in a profound and pervasive way.
There is no corner of popular culture beyond the potential for cult transformation.
Indeed, in entering common parlance the term has effectively lost its clandestine mystique.
But why? And how did we get here with cult? "Withnail and Us" charts the journey of cult in culture through an exploration of British cult films and their fans.
It is about our bizarre and enduring fascination with once obscure or shocking movies, from "A Clockwork Orange" to "The Wicker Man".
What is it about certain films that provokes such obsessive fan devotion?
What impells people to remote locations in search of filmic relics?
Why do they gather in groups to re-enact scenes learnt by heart?
Is any film worth re-viewing over 100 times? From 1968 and all that, through the cultural byways of the 1970s, this book attempts to explain such strange practices, and to trace their origins in the makings of some remarkable films, including "Tommy", "The Man Who Fell To Earth", "Quadrophenia", "Withnail & I", "Trainspotting" and "Performance".
Prepare to enter the arena of the unwell!
BIC: