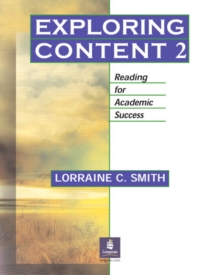 Exploring Content 2: Reading for Academic Success
0131402005 / 9780131402003
206 x 254 mm, 540 grams Illustrations, maps, ports.
ELT / TEFL (Teaching of English as a foreign language) Learn More
Exploring Content 2: Readingfor Academic Success, by Lorraine C.
Smith, engages English language learners in authentic academic content to help them succeed in college classes.
Readings from college textbooks and supporting exercises teach students essential reading and study skills as well as academic and content vocabulary.
Features *Five units, consisting of two related chapters, explore the fields of human behavior, culture, the origins of modern science, Eastern and Western art, and cross-cultural psychology.*Fine art, photos, illustrations, and graphs enhance each reading and help students understand important information.*Reading and study skills are introduced throughout the book.
These include previewing vocabulary and content, analyzing sentence meaning and text organization, understanding and creating graphic organizers, scanning and skimming, and writing summaries.*Unit follow-up activities, including writing assignments and Internet research, allow students to apply and extend what they have learned.
BIC: