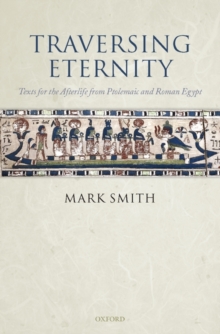 Traversing eternity : texts for the afterlife from Ptolemaic and Roman Egypt
019815464X / 9780198154648
Stock expected by 16/12/2019
Postgraduate, Research & Scholarly Learn More
Undergraduate
This book studies Egyptian ideas about death and the afterlife during the Ptolemaic and Roman Periods.
Mark Smith analyses Egyptian attitudes toward death, looks at the various means by which the Egyptians attempted to ensure a smooth transition from existence in this world to that in the next, and examines how they envisaged life in the hereafter.
Traversing Eternity is based on a corpus of sixty texts specially selected for the light which they throw uponthese topics.
Some of the texts are ritual in character, and were recited for the benefit of the deceased by priests, while others were interred along with the dead so that they themselves could make use of them in the afterlife.
Each text is translated in its entirety, with annotation to elucidate obscurepoints, and each is supplied with a detailed introduction.
Smith also addresses key issues such as that of continuity and change in Egyptian religious beliefs during the Ptolemaic and Roman Periods and attempts to answer the question of why the composition of texts for the afterlife flourished to such a remarkable extent at this time.
BIC:
1QDAE Ancient Egypt, 3D BCE to c 500 CE, HBLA1 Classical history / classical civilisation, HDDG Egyptian archaeology / Egyptology, HRKP1 Ancient Egyptian religion & mythology