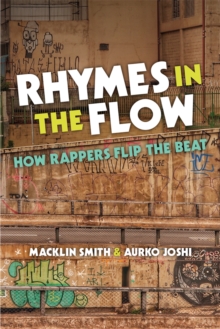 Rhymes in the Flow : How Rappers Flip the Beat
0472053892 / 9780472053896
152 x 229 mm 304 pages, 20 illustrations
Despite its global popularity, rap has received little scholarly attention in terms of its poetic features, perhaps because rap is so demonstrative and powerful, or because poetry scholars have been slow to recognize rap's poetic worth, or uncertainty about its legitimacy as a form of poetry.
Rhymes in the Flow systematically analyzes the poetics (rap beats, rhythms, rhymes, verse and song structures) of some 6,000 lines of rap lyrics to provide new insights on rap artistry and performance.
While most scholarship on rap has focused on its historical and cultural dimensions, Rhymes in the Flow traces rap's deepest roots and stylistic evolution-from Anglo-Saxon poetry to Lil Wayne-and contextualizes its complex poetics. The book is a collaboration between two rap poetry aficionados separated in age by fifty years.
Poetry professor Macklin Smith and his undergraduate student Aurko Joshi discovered in a University of Michigan poetry course their shared passion for the sounds and beats of hip hop and have been collaborating ever since.
Through their efforts, Rhymes in the Flow shows how rap, at times disparaged as an art form, is in fact a more complex and complicated, versatile and nuanced genre than has been previously appreciated.
BIC: