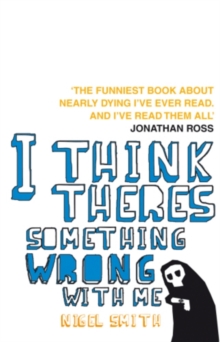 I think there's something wrong with me
0552774022 / 9780552774024
Usually dispatched within 2 weeks
Reprint. Originally published: London: Bantam, 2007.
Here's something I only learned later. When the radiologist was handed the scan, he asked, 'Righto, where's the body?' Shame I missed that.
I could have done with a laugh. When Nigel Smith got rushed to hospital with a brain lesion so big that the radiologist assumed he'd died, he was understandably hacked off.
After all, he was one of those blokes who had it all: a loving family, a wife his friends all fancied and a thriving TV comedy career. "I Think There's Something Wrong With Me" is his amazing, hilarious account of his fight for survival.
Battling a brutal illness, impossible bureaucracy and nurses that could only serve as fantasies to the writers of "Doctor Who", Nigel Smith has produced a brilliant black comedy for our time.
It is a book for everyone who's ever thought, 'there must be more to life than this'. Because sometime things have to go seriously wrong to make us realize just how much is right.
BIC:
BG Biography: general, VFJB Coping with illness & specific conditions