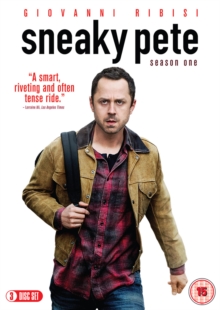 (15) Suitable for 15 years and over.
All ten episodes from the first season of the American crime drama in which a convicted felon assumes the identity of his cellmate so that he can evade the wrath of a ruthless gangster.
Having adopted his wily ways before being sent to prison, Marius (Giovanni Ribisi) learns all he needs to know about his cellmate, Pete (Ethan Embry), so that upon being released he can fraud his way into his family home and begin a new life by impersonating Pete, himself.
But with criminal mastermind Vince (Bryan Cranston) hot on his heels and looking to be recompensed for the wrongs committed against him, he must act fast if he is to save his own family while keeping up appearances in his new role.
The episodes are: 'Pilot', 'Safe', 'Mr. Success', 'The Fury', 'Sam', 'Coyote Is Always Hungry', 'Lieutenant Bernhardt', 'The Roll Over', 'The Turn' and 'The Longest Day'.