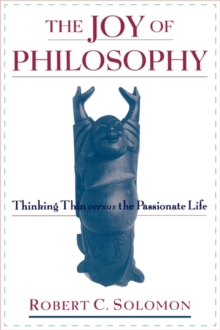 The joy of philosophy : thinking thin versus the passionate life
0195165403 / 9780195165401
Stock expected by 13/12/2019
Reprint. Originally published: 1999.
The Joy of Philosophy is a return to some of the perennial questions of philosophy--questions about the meaning of life; about death and tragedy; about the respective roles of rationality and passion in the good life; about love, compassion, and revenge; about honesty, deception, and betrayal; and about who we are and how we think about who we are.
Recapturing the heart-felt confusion and excitement that originally brings us all to philosophy, internationally renowned teacher and lecturer Robert C.
Solomon offers both a critique of contemporary philosophy and an invitation to engage in philosophy in a different way.
He attempts to save philosophy from itself and its self-imposed diet of thin arguments and logical analysis to recover the richness and complexity of life in thought.
Solomon defends the passionate life in contrast to the life of thoughtful contemplation idealized by so many philosophers, attempting to recapture the kind of philosophy that Nietzsche celebrated as a "joyful wisdom."
BIC: