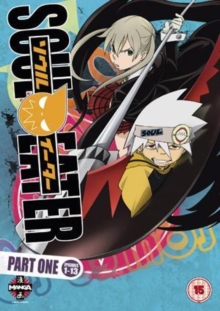 (15) Suitable for 15 years and over.
Episodes 1-13 of the fantasy anime series originally created by Atsushi Okubo.
Maka (voice of Laura Bailey) and Soul (Micah Solusod) attend the Death Weapon Meister Academy where they become fighting partners.
Maka is Soul's 'Meister' and Soul transforms into her weapon.
Another fighting duo are Black Star (Brittney Karbowski) and Tsubaki (Monica Rial), who become 'Meister' and weapon, respectively.
Together with Grim Reaper (John Swasey) and his son, Death the Kid (Todd Haberkorn), the group must gather the souls of evil people to ensure they will not turn into Kishin demons.
Episodes are: 'Resonance of the Soul', 'I Am the Star', 'The Perfect Young Man', 'Engage the Witch Hunter', 'Soul's Form', 'The Rumoured Freshman', 'Black Blood of Terror', 'Witch Medusa', 'Holy Legendary Sword', 'Demon Blade Masamune', 'Tsubaki, the Camellia', 'Courage That Is Not Lost to Fear' and 'Man With Demon Eyes'.