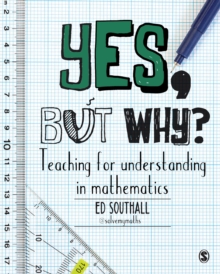 Yes, but why? : teaching for understanding in mathematics
1473948959 / 9781473948952
Getting the right answers in maths is only half the problem.
Understanding why what you're doing works is the part that often stumps students and teachers alike.
Does maths feels like a collection of random rules and steps that somehow lead you to an answer?
Don't worry you're not alone. Ask yourself: why do we have odd and even numbers? Why do two negative numbers multiply to make a positive?
Why do fraction operations work? What is cosine and where does it come from? Yes, but why? answers all of your questions, and sheds light on the hidden connections between everything in mathematics at school.
Maths makes sense. It always has, but until now maybe no-one ever showed you. A must-read for those training to teach primary or secondary mathematics via university-based (PGCE, BEd, BA w/QTS) or school-based (School Direct, SCITT, Teach First) routes and current teachers wishing to deepen their mathematical understanding. FIND OUT MORE ABOUT THE AUTHOR BEHIND THE BOOK WITH OUR SPECIAL FEATURE:60 Seconds with Ed Southall
BIC:
JNU Teaching of a specific subject, PB Mathematics, YQM Educational: Mathematics & numeracy
The title has been replaced.To check if this specific edition is still available please contact Customer Care +44(0)1482 384660 or schools.services@brownsbfs.co.uk, otherwise please click 9781526492517 to take you to the new version.
Title Unavailable: Out of Print
Other Formats