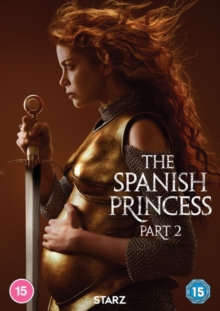 The Spanish Princess: Part 2
(15) Suitable for 15 years and over.
All eight episodes from the second part of the historical drama based on the novels 'The Constant Princess' and 'The King's Curse' by Philippa Gregory.
Having fulfilled her duty to marry King Henry VIII (Ruairi O'Connor), Princess of Spain Catherine of Aragon (Charlotte Hope) forms a powerful alliance against France.
However, the couple's relationship is put to the test when tragedy strikes.
The episodes are: 'Camelot', 'Flodden', 'Grief', 'The Other Woman', 'Plague', 'Field of Cloth of Gold', 'Faith' and 'Peace'.