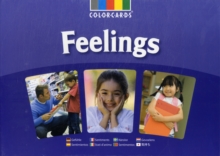 0863886949 / 9780863886942
23 x 30 cm 48 activity cards : both sides, col
Primary & Secondary Education (US: Elementary & High School) Learn More
Professional & Vocational
Reprint. In box, 22 x 31 cm.
Produced by Speechmark, ColorCards[registered] are a hugely adaptable teaching tool designed to help develop both language and social skills.
Real objects, people, situations and activities are shown on the photographs to provide you with creative and highly visual ways to help children to explore their own feelings and emotions, and understand the feelings of other people around them.
This creative set of photographic cards illustrates a huge range of feelings in children and adults - from happiness to sadness, anger to fear and so many more.
Some cards feature just one person; others show two or more people and how they interact.
On some cards the emotions are positive, on others they are negative and sometimes the cards feature both types of emotion.
Children will learn to recognise and understand the significance of different facial expressions and body language.
They will also be able to relate to many of the situations on the cards, which will encourage real understanding.
Use this set to focus on: The vocabulary of feelings and emotions, Managing individual emotions, How feelings may change in different situations, How other people also have feelings and needs, Non-verbal language, Caring attitudes, Feeling comfortable at home, at school and in social situations, Good ways to listen, and speak and behave.
BIC:
JNUM Teachers' classroom resources & material, YQNP Educational: Personal, social & health education (PSHE)