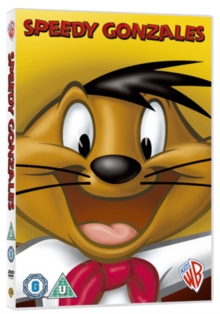 English, Italian, Portuguese
English, Italian, Portuguese, Slovenian, Romanian, Croatian
(U) Universal, suitable for all.
A collection of the best sketches from Warner Brothers' long-standing animated cartoon series, 'Looney Tunes'.
This selection contains animations featuring the lively little Mexican mouse, Speedy Gonzales.
Episodes are: 'Cat-Tails for Two', 'Tabasco Road', 'Tortilla Flaps', 'Mexicali Shmoes', 'West of the Pesos', 'Cannery Woes', 'The Pied Piper of Guadalupe', 'Mexican Boarders', 'Chili Weather', 'A Message to Gracias', 'Nuts and Volts', 'Pancho's Hideaway', 'The Wild Chase' and 'A-Haunting We Will Go'.