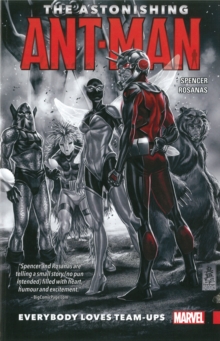 The astonishing Ant-ManVol. 1
0785199489 / 9780785199489
26 cm 136 pages : chiefly illustrations (colour)
Scott Lang was a down-on-his-luck, divorced ex-con - until he stole renowned scientist and super hero Hank Pym's size-altering technology in the hopes of saving his daughter's life.
Through that act of doing wrong for the right reasons, Scott learned how to be a hero himself.
With Pym's blessing and his daughter Cassie at his side, Scott became...
The Astonishing Ant-Man! But when a curveball upends Scott's life, will he continue to be a hero, or will he return to his former life of crime?
Collecting: The Astonishing Ant-Man 1-4; Ant-Man: Last Days 1; Ant-Man Annual 1
BIC: