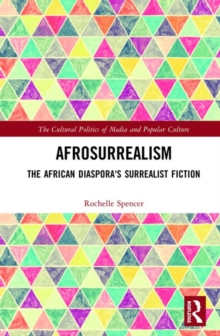 AfroSurrealism : The African Diaspora's Surrealist Fiction
113850405X / 9781138504059
Usually dispatched within 4 weeks
156 x 234 mm, 454 grams 140 pages, 4 Halftones, black and white; 4 Illustrations, black and white
Examining the surrealist novels of several contemporary writers including Edwidge Danticat, Tananarive Due, Nalo Hopkinson, Junot Diaz, Helen Oyeyemi, and Colson Whitehead, AfroSurrealism, the first book-length exploration of AfroSurreal fiction, argues that we have entered a new and exciting era of the black novel, one that is more invested than ever before in the cross sections of science, technology, history, folklore, and myth.
Building on traditional surrealist scholarship and black studies criticism, the author contends that as technology has become ubiquitous, the ways in which writers write has changed; writers are producing more surrealist texts to represent the psychological challenges that have arisen during an era of rapid social and technological transitions.
For black writers, this has meant not only a return to Surrealism, but also a complete restructuring in the way that both past and present are conceived, as technology, rather than being a means for demeaning and brutalizing a black labor force, has become an empowering means of sharing information.
Presenting analyses of contemporary AfroSurreal fiction, this volume examines the ways in which contemporary writers grapple with the psychology underlying this futuristic technology, presenting a cautiously optimistic view of the future, together with a hope for better understanding of the past.
As such, it will appeal to scholars of cultural, media and literary studies with interests in the contemporary novel, Surrealism, and black fiction.
BIC:
DS Literature: history & criticism, DSK Literary studies: fiction, novelists & prose writers, JFCA Popular culture