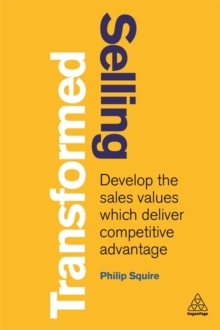 Selling transformed : develop the sales values which deliver competitive advantage
1789665353 / 9781789665352
Stock expected by 14/08/2020
Professional & Vocational Learn More
Tertiary Education (US: College)
For years, sales people have struggled with cliched views of how they sell, while at the same time customers have become more sophisticated and discerning, stopping off at different or unconventional places in the sales funnel.
The result is that the technique of sales people controlling the sales conversation and learning how to influence the customer no longer works.
Selling Transformed introduces the new world of selling, and addresses the reasons why sales people are so poorly perceived.
Selling Transformed provides fresh, tangible ideas on how to develop better sales practices.
Focusing as much on the customers as on the sellers, it explains key theories of selling effectively and introduces four proven strategies that are based on the values customers look for in sales people: authenticity, client-centricity, proactive creativity and being tactfully audacious.
Explaining what customers look for in sales people, and advising on how to develop and deliver these values, this is a new type of sales manual guaranteed to improve sales performance.
BIC: