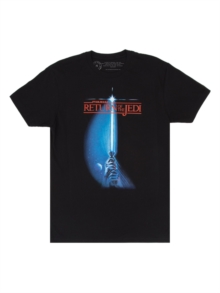 Star Wars : Return of the Jedi Unisex T-Shirt - Small
Usually dispatched within 4 weeks
It was a dark time for the Rebel Alliance... Star Wars: Return of the Jedi novelization was first published by Del Rey in 1983, around the same time as the movie release of Star Wars: Return of the Jedi.
This double-sided tee has the first edition cover art on the front and the book description on the back.
Product Details: 100% Cotton fitted tee, DIstressed, softened print, colour: black.
Size: Small, Length: 27 1/2 inches, Chest: 36 1/2 inches.
Each purchase helps to fund literacy programs and book donations to communities in need.
BIC: