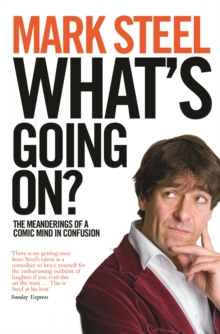 1847393209 / 9781847393203
Usually dispatched within 2 weeks
Reprint. Originally published: London: Simon & Schuster, 2008.
Comedian Mark Steel has spent most of his life a committed, signed-up member of the Socialist Workers Party.
The Labour Party coming to power in 1997 could have been the start of a new political dawn for Mark and for Britain.
But instead, big business and war-mongering thrived under New Labour, and in many ways the working class seemed to become more marginalised.
Petty bickering and in-fighting racked the SWP, numbers dwindled horribly, socialism became a dirty word and Mark Steel began to think the unthinkable . . . do I really want to belong to this rabble anymore? At the same time, entering his forties, Mark's personal life began to disintegrate.
Spending many sleepless nights on the sofa, watching inane cable TV into the early hours of the morning, Mark asked himself the question, 'What is Going On?' In a book that goes right to the heart of Britain and the problems it suffers today, Mark wonders why over a million people marching in London couldn't stop the war in Iraq, why supermarkets are killing the small town centres of Britain and why George Galloway went on Celebrity Big Brother destroying any political credibility he may have had in the blink of a cat's eye.
Bitingly funny, poignant, sharply observed and very much of the moment, this is Mark Steel at his brilliantly intelligent best.
BIC: