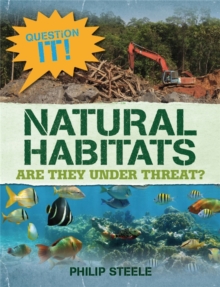 Natural habitats : are they under threat?
1526303388 / 9781526303387
25 cm 47 pages : illustrations (colour), maps (colour)
Reprint. Originally published: 2017.
In an era when the global environment is defined by humans and their activities, humans are destroying natural habitats and resources, often the same ones on which they themselves depend.
While humans understand more about the environment and population than ever before, what action are they taking to protect the natural environment for future generations - and is it too little, too late?
This book is one in the Question It! series for readers upwards of age 10, which explores globally important topics relating to the environment in a balanced and objective way, encouraging readers to adopt a questioning approach to the issues involved.
Titles in the 6-book series are: Climate Change, Food, Natural Habitats, Oil, Population and Water.
BIC:
4KHN For National Curriculum Key Stage 3, 5AL Interest age: from c 10 years, YXZ Social issues (Children's / Teenage)