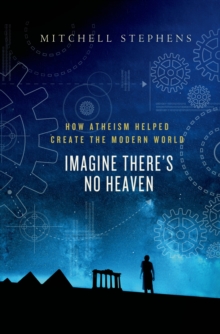 Imagine there's no heaven : how atheism helped create the modern world
1137002603 / 9781137002600
Usually dispatched within 4 weeks
The historical achievements of religious belief have been large and well chronicled.
But what about the accomplishments of those who have challenged religion?
Traveling from classical Greece to twenty-first century America, Imagine There's No Heaven explores the role of disbelief in shaping Western civilization.
At each juncture common themes emerge: by questioning the role of gods in the heavens or the role of a God in creating man on earth, nonbelievers help move science forward.
By challenging the divine right of monarchs and the strictures of holy books, nonbelievers, including Jean- Jacques Rousseau and Denis Diderot, help expand human liberties, and influence the early founding of the United States.
Revolutions in science, in politics, in philosophy, in art, and in psychology have been led, on multiple occasions, by those who are free of the constraints of religious life.
Mitchell Stephens tells the often-courageous tales of history's most important atheists - like Denis Diderot and Salman Rushdie. Stephens makes a strong and original case for their importance not only to today's New Atheist movement but to the way many of us - believers and nonbelievers - now think and live.
BIC:
* Variable discounts between 0% and 10% are applied to items where BBfS cannot determine exact discounts from suppliers.