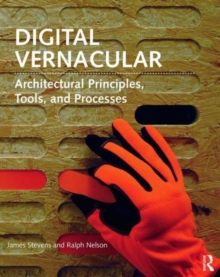 Digital vernacular : architectural principles, tools, and processes
1138017124 / 9781138017122
Stock expected by 26/01/2020
316 pages : illustrations (colour)
Professional & Vocational Learn More
Undergraduate
Digital Vernacular addresses the why and how of digital fabrication in hundreds of step-by-step color images, illuminating a set of working principles and techniques that join theory with practice.
Authors James Stevens and Ralph Nelson reconcile local traditions and innovations with globally accessible methods and digital toolsets.
By combining ethics with hardware, the book will root you in the origins of making, ensuring a lasting and relevant reference for your studio practice.
The book opens with the origins and principles of the digital vernacular, then outlines digital vernacular tools including computer numerically controlled (CNC) mills, laser cutters, and 3D printers.
You'll even learn to create your own digital fabrication tools out of inexpensive materials.
The book concludes with the processes of the digital vernacular, including techniques for removing, joining, forming, and adding.
A companion website at make-Lab.org hosts additional step-by-step processes and project outcomes.
BIC: