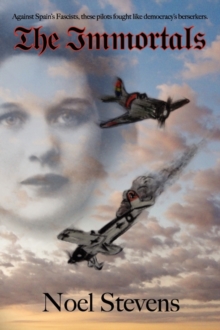 0755212460 / 9780755212460
Usually dispatched within 2 weeks
229 x 152 mm, 526 grams 358 pages, Illustrations
In the narrow Thermopylae, in Spain's skies, they flew, as men possessed.
When the Republican Aviators surrendered to Franco, the fascists stripped off their warm flying suits, often leaving them in underwear.
Franco shot many, and froze and starved the rest in his prisons.
No one told their story in more than 60 years. After the Civil War, Franco shot a quarter of a million of the helpless, unarmed "riff raff." Many dragged out of their homes, from their wives and children.
In the last fifteen years, much of Spain has become middle-class.
When International Volunteers - now mostly in their 90s - come on visits, they love to play up their vulgarity; tipping glasses of their urine onto Franco's tomb, and whatever.
Franco vilified the aviators as illiterate scum. To go to France or Russia to train, they had to pass high level maths for navigation.
Franco "obliterated" his war in the air; he expunged the Republican Aviators from history.
Franco glorified and trumpeted his land war. Those Republican Aviators who Franco had banished, had razed from history for more than 60 years, step back into history with this book. And with them, the unbearably poignant story of Dawn Spencer, a young Australian newspaper-woman, with her life of overwhelming emotions.
Stevens created this beautiful young woman for her to tell, day by day, of the Aviators' lives - opening up a new dimension, a rich human tapestry.
With cloth and wood, They hurled down the mountains of the skies.
Oh! just see those Aviators fly!
BIC: