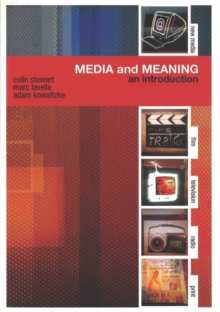 Media and meaning : an introduction
0851708439 / 9780851708430
Stock expected by 20/11/2019
advanced secondary Learn More
further/higher education
general
The new AS level is expected to signigicantly increase numbers of students taking Media Studies at school; UK sales expected to be on a par with bfi Publishing's flagship text, The Cinema Book; Book will receive big solus promotion to schools and colleges; This is the indispensable Media Studies textbook for AS/A level and Higher Media Studies syllabuses.
An accessible overview of the key concepts leads into coverage of all major media forms, and genres within particular media.
Included are: Varied and substantial activity sections; Extensive opportunities for students to apply media theory in their own work; Stills, cartoons and other illustrations; Uniquely full treatment of new media and the internet; Extensive coverage of film, television, radio, newspapers and magazines; Sections for all media, covering institutions, representation, audiences, genre, language and products; Suitable for students and their teachers for 16 years upwards, Media and Meaning can be used as an aid to class study and for independent student learning. Accessible, and with a strong emphasis on context and concepts, this book is a lively introduction to contemporary media which can be read for pleasure as well as part of formal study by a very wide range of readers.
Full list of contents overleaf
BIC: