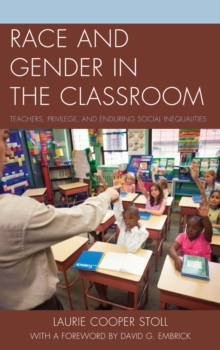 Race and gender in the classroom : teachers, privilege, and enduring social inequalities
1498515541 / 9781498515542
Stock expected by 24/12/2019
23 cm xv, 139 pages : illustrations (black and white)
Race and Gender in the Classroom explores the paradoxes of education, race, and gender, as Laurie Cooper Stoll follows eighteen teachers carrying out their roles as educators in an era of "post-racial" and "post-gendered" politics. Because there are a number of contentious issues converging simultaneously in these teachers' everyday lives, this is a book comprised of several interrelated stories.
On the one hand, this is a story about teachers who care deeply about their students but are generally oblivious to the ways in which their words and behaviors reinforce dominant narratives about race and gender, constructing for their students a worldview in which race and gender do not matter despite their students' lived experiences demonstrating otherwise.
This is a story about dedicated, overworked teachers who are trying to keep their heads above water while meeting the myriad demands placed upon them in a climate of high-stakes testing.
This is a story about the disconnect between those who mandate educational policy like superintendents and school boards and the teachers who are expected to implement those policies often with little or no input and few resources.
This is ultimately a story, however, about how the institution of education itself operates in a "post-racial" and "post-gendered" society.
BIC:
1KBB USA, JFFJ Social discrimination & inequality, JFSJ Gender studies, gender groups, JFSL Ethnic studies, JNA Philosophy & theory of education