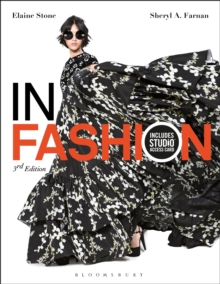 In fashion (Third edition.)
1501315153 / 9781501315152
Usually dispatched within 4 weeks
28 cm xiii, 338 pages : illustrations (colour)
"It is the perfect text for those exploring their interest in the fashion industry." Leslie Bush, Phoenix College, USA"In Fashion is a concisely written text that provides an overview of the key components of our industry along with the relationship to the environmental marketplace.
I consider it the best text for our community college students." Marilyn Sullivan, El Centro College, USALearn about how the fashion industry works to find a career that you'll love. You'll learn about how and why fashion evolves and changes, the materials used and who creates them, the companies who make apparel, and how fashion marketing helps companies sell their products.
Spotlight features focus on careers, innovators, and business, profiling people like patternmaker Judi Dawainis, innovations like color forecasting, and business technology like social media.
A Top 100 Fashion Influencers section gives you a quick list of who's who in fashion history, while a glossary and key terms throughout make sure you know what you're talking about. -Includes more than 250 color images of designers, fashion collections, retailers, and more -Covers textile trends and innovations as well as omni-channel retail practicesIn Fashion STUDIO- Study smarter with self-quizzes featuring scored results and personalized study tips- Review concepts with flashcards of terms and definitions- Watch videos that bring chapter topics and career opportunities to life- Enhance your knowledge with chapter exercisesTeaching Resources- Instructor's Guide including tips for integrating the STUDIO into a course, sample syllabi, teaching methodology, and grading resources. - Updated Test Bank includes 50% new questions and updates throughout. - PowerPoint presentations provide a framework for lectures and include color images from the book. - First Day of Class: Learning with STUDIO PowerPoint presentation
BIC:
AKTA Fashion design & theory, JFCK Fashion & society, KNSX Fashion & beauty industries
* Variable discounts between 0% and 15% are applied to items where BBfS cannot determine exact discounts from suppliers.