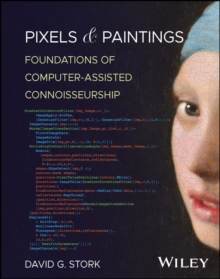 Pixels and Paintings
0470229446 / 9780470229446
This book is a collection representing some of the most powerful and useful computer techniques in the service of art.
Combining contributions from peer-reviewed journals of computer vision, image analysis, and art history with others written expressly for this volume, it presents a wide range of advanced computer imaging methods applied to the study of art.
The book clarifies the assumptions underlying the possible use of each algorithm, provides examples of use and some of the art historical lessons learned through this use, and highlights available software.
Art conservators, art historians, art educators, history students, computer image analysts, and computer graphics specialists will desire this fascinating volume.
BIC:
AB The arts: general issues, UG Graphical & digital media applications, UYQV Computer vision, UYT Image processing