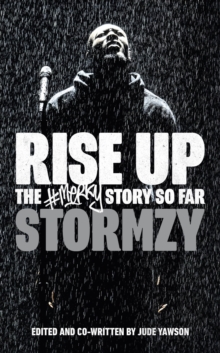 Rise up : the `Merky story so far
1529118514 / 9781529118513
23 cm 229 pages, 32 unnumbered pages of plates : illustrations (black and white, and colour)
*A 2018 BOOK OF THE YEAR*`An inspirational must-read.' Evening Standard`A very important book.' Will Gompertz, BBC`A motivational, inspirational oral history.' Nikesh Shukla, iNews`Don't sleep on it... the future is looking #Merky.' Metro______________________`It's been a long time coming, I swear...' In four years Stormzy has risen from one of the most promising musicians of his generation to a spokesperson for a generation.
Rise Up is the story of how he got there. It's a story about faith and the ideas worth fighting for.
It's about knowing where you're from, and where you're going.
It's about following your dreams without compromising who you are. Featuring never-before-seen photographs, lyrics and contributions from Team #Merky, Rise Up is the #Merky story, and the record of a journey unlike any other. ______________________Edited and Co-written by Jude YawsonContributions by Team #MerkyImages by Kaylum Dennis
BIC:
AVGR Rap & Hip-Hop, AVH Individual composers & musicians, specific bands & groups, BGFA Autobiography: arts & entertainment