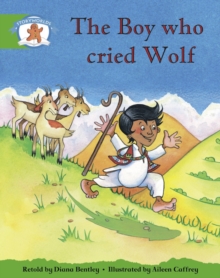 Storyworlds Reception/P1 Stage 3, Once Upon A Time World Stories (4 Pack)
0435091093 / 9780435091095
170 x 220 mm, 196 grams 12 pages, colour illustrations
Primary Learn More
Student text (ie where teacher's version also exists
Part of the "Storyworlds" series, this pack contains the four Stage Three "Once-Upon-a-Time" stories.
The stories are "The Boy Who Cried Wolf", "The Selfish Dog", "The Three Billy Goats" and "The Hare and the Tortoise".
Each stage of "Storyworlds" provides a carefully structured introduction of words and language.
The different worlds ensure that these are introduced and practised in a variety of contexts.
Stage Three, like Stage Two, offers the "springboard approach" - developing the role of the young child as an independent reader, whilst retaining some support offered by the experienced reader.
Twenty-two new key words are introduced. The opening page of each story provides simple text for the teacher or older child to read.
The child then reads the rest of the story. The repetitive language allows for the confident development of word-recognition skills.
BIC:
4KH Designed / suitable for National Curriculum, YQCR Educational: English language: readers & reading schemes