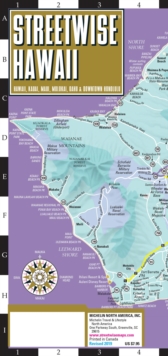 Streetwise Map Hawaii - Laminated City Center Street Map of Hawaii : City Plans
2067238868 / 9782067238862
102 x 220 mm, 100 grams 1 pages
REVISED 2019 Streetwise Hawaii Map - Laminated State Road Map of Hawaii - Folding pocket size travel mapThis map covers the following areas:Oahu Map 1:290,000Downtown Honolulu & Waikiki Map 1:23,000Hawaii Map 1:750,000Maui Map 1:350,000Molokai Map 1:380,000Kauai Map 1:320,000Kailua-Kona Map 1:34,000Hilo Map 1:75,000Hawaiian Islands Map 1:8,300,000Kahului Map 1:90,000Aloha!
Hello from Hawaii. Here you'll encounter some of the most unique geography in the United States.
While it has only been a state a relatively short time, Hawaii has always been a premier vacation destination.
Why? The pineapples, the sugar, the spices, and all of the other agriculture serve as the backbone to this island chain, but there is so much more. Hawaii exemplifies all that is exotic; palm fringed beaches, molten lava cascading into the sea and rain forests so dense that they rank as some of the wettest places on the planet.
From the main island, to Maui to Kauai, Hawaii has enough sights and sounds to give a serious traveler a lifetime of memories.
This island paradise has something for everyone: surfers, hikers, swimmers, scuba divers, geological enthusiasts and professional beach potatoes. The STREETWISE (R) Hawaii Map has each island mapped, along with a detailed inset of Honolulu, fully indexed with sites, hotels, parks, scenic drives and more. Our pocket size map of Hawaii is laminated for durability and accordion folding for effortless use.
The STREETWISE (R) Hawaii map is one of many detailed and easy-to-read city street maps now owned and updated by Michelin.
BIC: